Outline of British Postal History
Who or what race invented the carried message is not known.
The first letters appear to have been written on stone and later in clay which was then baked. Tablets of stone are mentioned in Exodus. Jezebel was a great letter writer according to the First Book of Kings XXI.
Letters were for thousands of years carried by personal servants between individuals.
In England travellers were asked to carry letters to towns to which they were going and carters were also employed for this service – the fee being arranged between the carter and the writer.
Before 1500 the system of carrying the "Mail" was a haphazard affair organised by the King for official dispatches only as the need arose.
In 1509 Henry VIII set up the first organised system of horse-posts and an official was appointed in charge of the system, namely Sir Brian Tuke who was given the title of Master of the Posts.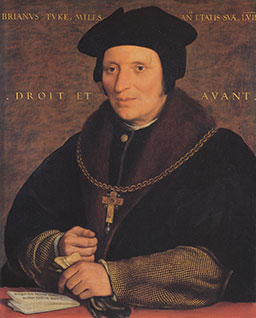 Certain inns at regular intervals along the main roads were appointed as "stages" or "posts" at which the "postmaster" (usually the inn-keeper) had to ensure that horses were available for the "couriers" or "Kings Messengers" at any time.
Often "riding post" meant that a courier rode, say, 20 miles then handed the mail at the post to another courier who rode on freshly mounted to the next post.
However "riding through post" meant that the same courier rode on, changing horses at each. post.
One memorable ride was that of Robert Carey in 1603 when he heard that Queen Elizabeth I had died at 1am on 25th March. He left London at 9am to carry the news to James VI of Scotland in Edinburgh who was to be James I of England.
He rode "through post" to Doncaster (160 miles) by nightfall , the next day to Widdrington (another 137 miles) and on the third day reached Edinburgh (106 miles) and saw the King.
In the month of March each day had 12 hours of darkness. He travelled over 400 miles in under 60 hours – averaging 7 miles an hour: or put another way, he travelled over 400 miles in about 36 day-light hours – averaging 11 miles an hour. He fell at one stage and broke his collar-bone but rode on. He became Sir Robert Carey under King James; later Earl of Monmouth, then Duke of Monmouth. He is buried in Rickmansworth Church, Hertfordshire.
In 1635, during the reign of Charles I, the postal services as we know then, came into being. Private letters were officially carried at published charges which were as follows:
For one sheet of paper –
2d for up to 80 miles
4d for between 80-140 miles
6d for over 140 miles
8d for into Scotland
Rate was double for two sheets of paper, treble for three etc.
A copy of the act is show below.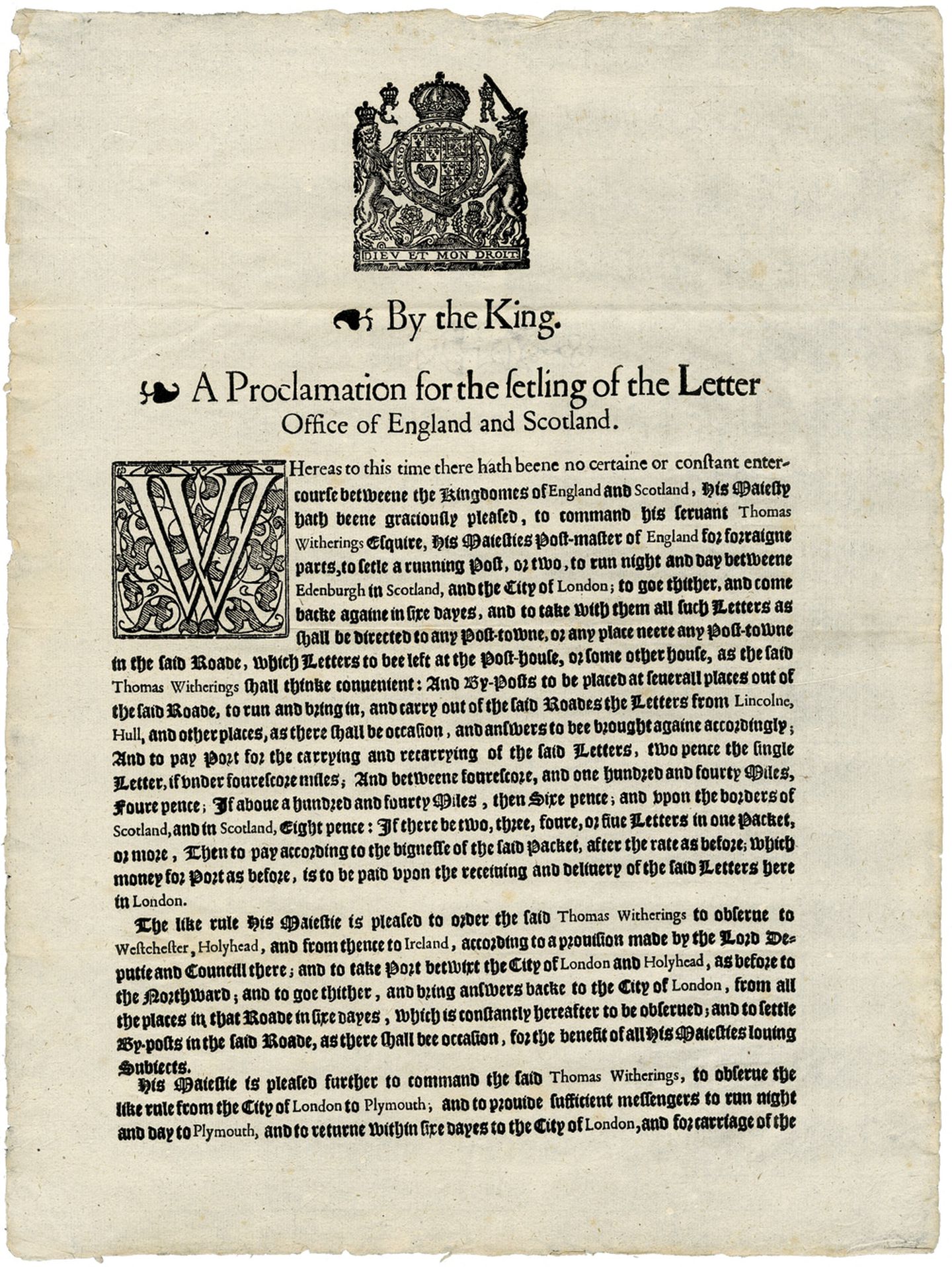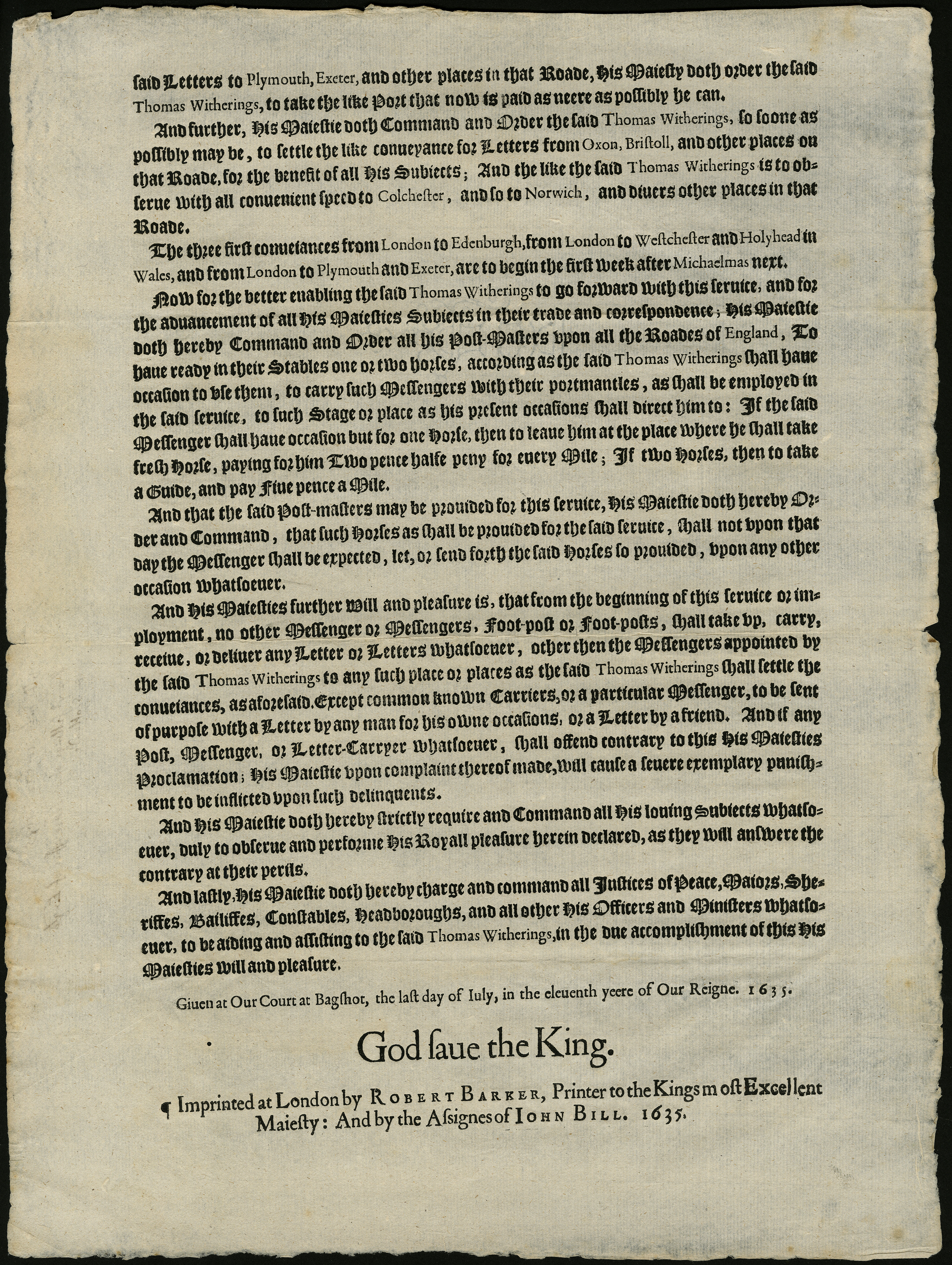 Thomas Witherings was appointed "His Majesties Post-Master". Prepayment was optional and payment was usually left for the recipient to settle so as to ensure delivery of the letter.
In 1660 Charles II came to the throne after Cromwell's twelve years of rule, and Colonel Henry Bishop was granted the office of Postmaster General for a fee of £21,500 a year payable to the King. He invented a stamp which he said "is putt upon every letter shewing the day of the moneth that every letter comes to the office so that no Letter Carryer may dare detayne a letter from post to post" which before was usual.
This was the first British postage stamp, now known as the Bishop Mark and was then used only in London.
In 1663 Parliament agreed to grant the profits from the post offfice to the King's brother, the Duke of York, so Bishop was forced to resign, but his stamps continued in use for over 100 years.
In London in 1680 a quaker merchant named William Dockwra started a penny post for the purpose of conveying letters from various parts of London to the General Post Office in Lombard Street. For this service a fee of 1d was charged on each letter.
The Duke of York objected and Dockwra lost a High Court Action in the Autumn of 1682, and so once again a thriving enterprise was taken out of' private hands. Examples of Dockwra Marks are shown along with the Bishop Marks further on. The Dockwra type marks continued in use for many years.
In 1765 country Penny Posts were authorised and were used to convey letters from villages and remote parts of large towns to the Post 0ffice in the Post Town at which letters were put into the General Post. The 1d fee was payable to the sub-postmaster in the particular village in which the letter was written.
Two engineers by their skill and efforts greatly improved the quality of our roads, which made possible the quicker movement of coaches, and enabled the Mail coaches in the later decades of the 18th century to take over from the post-boys on horseback. They were, firstly, John McAdam (1756 – 1836), a Scottish engineer who introduced improved road making by the use of crushed stone, and secondly, Thomas Telford (1757 – 1834), another Scottish engineer who built many of the bridges in Britain including the Menai Suspension Bridge in Anglesey in 1826.
In 1784 John Palmer, who ran a theatre in Bath and who used the stagecoaches to get his actors and actresses to and from London, applied for a contract to carry the Mails by coach. He stated he could keep to a timetable and give a speedier service than the post-boys. William Pitt, Prime Minister, ordered him to try his scheme. On 2nd August 1784 the Mail Coach with four passengers left Bristol at 4pm and arrived in London at 8am – an hour shorter than the fastest stage-coach. It left London at 8 pm. and reached Bristol at noon next day. Five inn-keepers supplied horses. Letters were thereby delivered quicker by a whole day.
The use of Mail Coaches spread rapidly over the whole country and flourished for about 50 years. Then came the railways – first used for carrying Mail on 11th November 1830 , and by 1848 the Mail Coaches were finished except in very remote areas.
In 1837 Rowland Hill published a pamphlet on postal reform. He suggested the use of adhesive stamps for prepayment of letters and a reduction of the fee to 1d per letter weighing up to 1/2oz. for any distance in the country. The average cost of a letter (rated by distance) at that time was between 9d. and 10d.
On 5th December 1839 an experimental uniform Fourpenny Post was tried and this lasted only until 10th.January 1840 when Uniform Penny Postage was proclaimed.
On 6th May 1840 the first British adhesive postage stamp was put on sale. The use of the adhesive postage stamp became compulsory in 1851 for London and in 1852 for the rest of the country.
Since 1840 many improvements have been made for the benefit of the public, for example, the introduction of roadside letter-boxes during and after 1853, previous to which all letters had to be taken to a Post Office.
Technology has advanced enormously to enable the Post Office staff to cope with the vastly increased number of items which are posted daily.

S.G. Yates
Alton, Hants.